Membership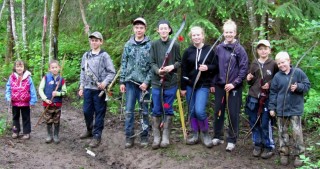 The Bulkley Valley Bowmen enthusiastically promotes the sport of archery. Membership with the BV Bowmen provides a high-valued recreational experience, as the archery range is located in a very scenic setting along the Bulkley River. Membership is open to everyone.
2017 Fee Schedule
| | | | |
| --- | --- | --- | --- |
| | BCAA Fee (may vary) | Club Fee | Total Fee |
| Adult | $70 | $10 | $80 |
| Family | $150 | $20 | $170 |
| Junior (under 18) | $60 | $10 | $70 |
Range Etiquette
Establish a shooting line so no one is ahead of other shooters. Shoot your arrows only down field at targets;
Wait until all shooters are done. Call "CLEAR", make sure it is clear and proceed to retrieve arrows;
Leave your bow in front of a target when hunting for arrows so people know that you are there;
If you have found your arrows and someone is looking, help them out;
As a courtesy, do not spend a great deal of time looking for arrows when there is a group waiting to shoot. Remember the spot and look at the end of shooting; and
When shooting on the archery trails, there is not walking back on the trail for safety reasons. Please follow the posted arrows for the direction on and off the course.
Contact Membership: membership@bvbowmen.ca
Documents
Bulkley Valley Bowmen Membership Form PDF
Bulkley Valley Bowmen Membership Form DOC
BC Archery Association Membership Form PDF
BC Archery Association Membership Form DOC