Membership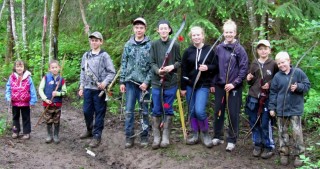 The Bulkley Valley Bowmen enthusiastically promotes the sport of archery. Membership with the BV Bowmen provides a high-valued recreational experience, as the archery range is located in a very scenic setting along the Bulkley River. Membership is open to everyone.
Becoming a member is an easy 3 step process:
1. Become a BCAA member. BCAA membership is required for insurance purposes and fees are separate from club fees. BCAA fees can be paid through the BCAA website https://bcarchery.ca/about/membership/join-bc-archery-association
2. Download and fill out the membership form below. Re-save and email it back to membership@bvbowmen.ca or drop off with payment to Glacier Toyota to the front desk
3. Pay your dues. Payment can be dropped off at Glacier Toyota, or etransfer membership@bvbowmen.ca
2022 Fees
| | | | |
| --- | --- | --- | --- |
| | BCAA Fee | Club Fee | |
| Adult | $70 (paid to BCAA) | $10 | |
| Family | $150 (paid to BCAA) | $20 | |
| Junior (under 18) | $60 (paid to BCAA) | $10 | |
Range Etiquette
Establish a shooting line so no one is ahead of other shooters. Shoot your arrows only down field at targets;
Wait until all shooters are done. Call "CLEAR", make sure it is clear and proceed to retrieve arrows;
Leave your bow in front of a target when hunting for arrows so people know that you are there;
If you have found your arrows and someone is looking, help them out;
As a courtesy, do not spend a great deal of time looking for arrows when there is a group waiting to shoot. Remember the spot and look at the end of shooting; and
When shooting on the archery trails, there is not walking back on the trail for safety reasons. Please follow the posted arrows for the direction on and off the course.
Contact Membership: membership@bvbowmen.ca
Documents
2022 Membership Form [PDF]